Please contact the EPC Office at 908-723-0645 or easternproducecouncil@gmail.com to register a foursome or to reserve a sponsorship. This event sells out FAST every year, so reserve your foursomes and sponsorships now.
8th Annual
James & Theresa Nolan
Family Foundation
and EPC Scholarship 2021

Deadline to Apply:
Friday, April 23rd

Winner to be Announced:
Tuesday, May 25th

To learn more about this scholarship and how to apply, click the button below
The 2021 EPC Leadership Class
The EPC proudly announces the 20 up-and-coming produce professionals chosen for its 2021 Leadership Class, a professional development experience for those with less than 10 years of experience in the industry. The program provides the opportunity for those selected to gain valuable knowledge from both classroom and field experience.
Schedule of Events
April 2020 - Food Safety and Modernization Act (FSMA) Seminar - COMPLETED.

April 13th - Classroom/Field Experience at Hionis Greenhouses in Whitehouse Station, NJ.

May (TBD) - Visit to Philadelphia Wholesale Produce Market (PWPM) in Philadelphia, PA and Holt Cargo Systems at the Port of Gloucester, NJ.

September 14th - Classroom/Field Experience at Rutgers' Snyder Research Farm in Pittstown, NJ.

Week of December 13th - Attend Seminar and Cocktail Reception at New York Produce Show. Certificates of Completion will be presented at the Show's Keynote Breakfast.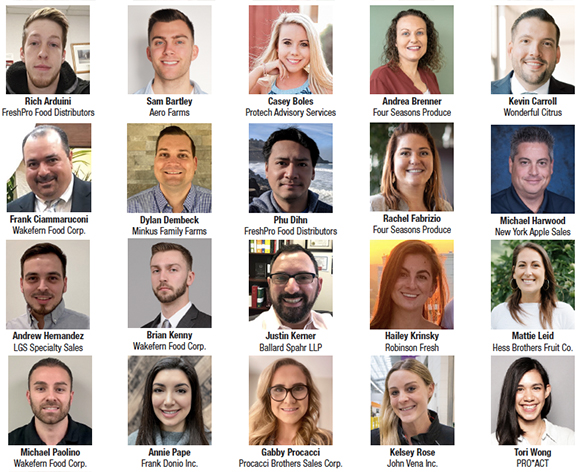 Thank you to everyone who supported this year's
Virtual Show & Conference.
Eastern Produce Council Hosts 6th Annual Joe DeLorenzo Family Apple Picking Event
The Eastern Produce Council hosted its 6th Annual Joe DeLorenzo Family Apple Picking Event on Saturday, October 3rd at Melick Family Farm in Oldwick, NJ. "It was a beautiful day to be together, celebrating Joe and our EPC families in attendance. Wearing masks was a necessity, but at least we could be gathering as a council, with our families, out on a farm", said EPC Director, Susan McAleavey Sarlund.
The event ran like it had in prior years for the most part. There was a "Grab and Go" Cider and Doughnut bag for breakfast, Hayrides to the top of the orchard still ran with less people being accommodated on each ride, and tents offering fresh grilled corn on the cob, hotdogs and popcorn, following the apple picking.
There were over 35 people from the DeLorenzo family in attendance including Joe's wife Goldie, three of his four sisters and 14 grandchildren, including his one-year old namesake, Joseph Michael DeLorenzo.
The event was named in honor of long-time board member and two-time president of the council, Joe DeLorenzo, who passed away in November 2014 and established by former EPC Executive Director, John McAleavey, who passed away in June of 2015.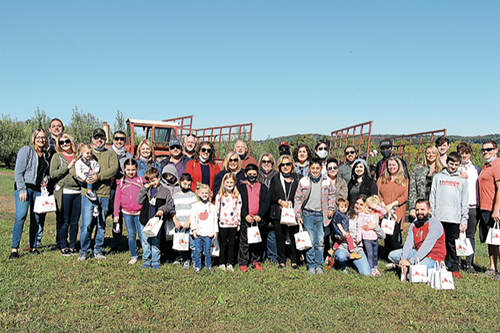 Click Here To View More Photos of this Event!
*Photos By The Produce News
Great to Gather again for the EPC's 45th Annual Golf Outing!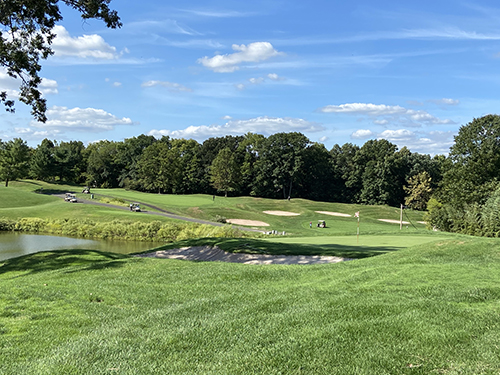 Oh what a day! The skies were blue, the temperature an ideal mid 70s and people were so happy to gather together again as a council since the Coronovirus Pandemic began. Postponed from the original date of June 6th, the EPC hosted its 45th Annual Sal Zacchia, Phil LaRocca and Pete Piastra Memorial Golf Outing at Fox Hollow Golf Club in Branchburg, NJ on Saturday, September 12th.
Following a Grab and Go Breakfast, the group went out to play golf in a Shotgun Format. The top two teams of the day both had a score of 59 but breaking the tie was the team of Derrick Bender, Ed Rummel, Sam Cefalu and Anthony DeAngelis. The second place team was comprised of Michael Rojas, Angela Aronica, and Daniel Milan.
The Longest Drive winners were Michael Rojas and Theresa Lowden and the Closest to the Pin winners were Michael D'Arrigo, Rich Borchers, Brian D'Arrigo, and Steve Tirado. The Winner of the Putting Contest was Michael Hungerbuhler.
Following the round of golf was a boxed BBQ lunch, cocktails, a 50/50 raffle drawing and Grand Prize Drawing of a set of Golf clubs. There was also a Prize Raffle.
EPC Executive Director, Susan McAleavey Sarlund, in her closing remarks thanked everyone for coming out to support the event and the Golf Committee who was committed to hosting the event and getting the membership together in what has truly been an unprecedented year. She also thanked all the sponsors who contributed to the outing, including Gold Sponsors Dole and Giorgio, Silver Sponsor Robinson Fresh and Bronze Sponsors, American Blueberries, Fruitco, Hapco Farms, Lancaster Foods, and Pennrose Farms.
Update From New Jersey
Secretary Of Agriculture,
Douglas Fisher
Update From South Carolina Commissioner Of Agriculture,
Hugh Weathers
7th Annual EPC/Nolan Family Foundation Scholarship Awarded Via Zoom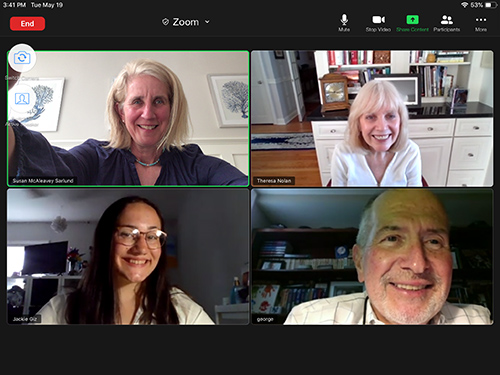 Pictured in the Bottom Row (L to R): Scholarship Recipient Jacqueline Giz, Uncle of Winner, EPC's George Moskal, Top Row (L to R:) EPC's Susan McAleavey Sarlund and Theresa Nolan, representing the Nolan Family Foundation.
In spite of not being able to gather for the EPC's Annual BBQ on May 19th, sponsored by the New Jersey Department of Agriculture, the council congratulated its 2020 Scholarship Winner yesterday via Zoom.
On the call to present the 7th Annual $5,000 Nolan Family Foundation Scholarship were Theresa Nolan, EPC Executive Director, Susan McAleavey Sarlund, the Winner of the 2020 Scholarship, Jacqueline Giz, and George Moskal (Jacqueline's Uncle, member of EPC's Executive Board and 2010 EPC Hall of Fame Recipient). Jacqueline will attend Rutgers University this fall and will double major in Art History and Economics in a Pre-Law Track.
Susan shared with the Zoom participants, "With so much disappointment in our world these past two months, and all that High School Seniors have lost out on, I thought it was essential to celebrate the Scholarship with Jacqueline on the actual day she would have been presented to our membership at the EPC's BBQ. Congratulations Jacqueline, we wish you all the best with your college experience!"
What makes this scholarship unique is that it is based solely on a 500-word essay on ethics. In particular, applicants need to cite an example of how they faced an ethical challenge in their life and dealt with it. Scholarship Applicants must be related to an EPC member who has been a member of the Council for at least six months, preceding the date of the application, and anonymous essays are judged by representatives of the Nolan Foundation.