EPC Hosts Tailgate at MetLife Stadium!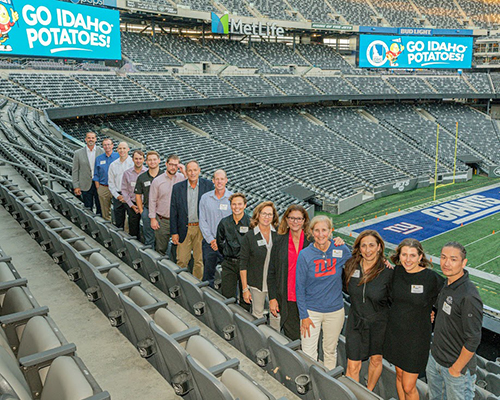 It was another beautiful night at MetLife Stadium where the EPC hosted a Tailgate Event for its members on Tuesday, September 20th in the Mezzanine Lounge overlooking the field.
Following a tour of the facility for early arrivals and a Cocktail Hour, EPC President Marianne Santo welcomed the group and introduce the sponsors; Idaho Potato Commission, The Oppenheimer Group, and Zespri.
Click here to read the complete article.
47th Annual EPC Golf Outing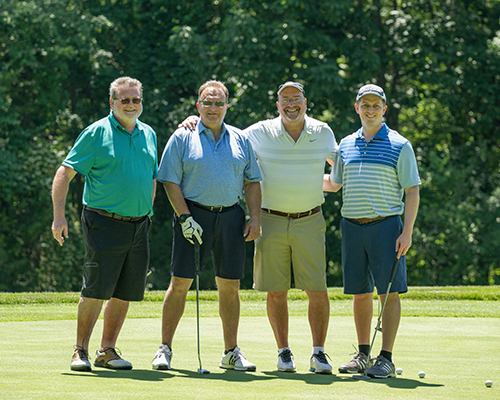 The Eastern Produce Council hosted its 47th Annual Golf Outing on Tuesday, June 14th, at Fox Hollow Golf Club in Branchburg, NJ. It was a beautiful day, shared with industry friends out on the links. This year, the council went back to hosting the event on a weekday, as opposed to a weekend, and switched to a Lunch and Dinner format, versus Breakfast and Lunch which was well received, based on the strong turnout of players.
Following golf and, a Cocktail Hour and Dinner, Rich Martin represented the EPC's Golf Committee announcing the winners on the course and in the Raffles. He thanked everyone for supporting the event, including Gold Sponsors (Dole and Giorgio), Bronze Sponsors (A&J Produce, Affinity Group, Lancaster Farms, and T.F. Produce), Putting Contest Sponsor (Suja), and a host of many others highlighted around the golf course.
On the course, the winning team was Raul Millan, Eurice Rojas, Oscar Castro, and Johnnie Pandolfino of Vision Import Group and the Second place team was Ed Swartz of Nasoya, Kurt Zuhlke of Produce Packaging, and Mark Gartenfeld.
Closest to the Pin winners were Josh Minton of Donio, Gary Roselli of Allegiance Retail Services, Jeff Garrison of Sunsweet, and Chris Hill of Little Leaf. Dylan Dembeck of Minkus Onions won the Longest Drive, and James Ferrier of organicgirl and Jay DeCamp of JOH split the Putting Contest Prize of $1,000. Mike Kominsky of Ventura Foods won the Grand Prize Drawing of a new set of golf clubs and bag.
Next up on the calendar for the Eastern Produce Council is a Tailgate Event at MetLife Stadium on Tuesday, September 20th!
NJDA Hosts Annual BBQ at Demarest Farm
EPC/Nolan Family Foundation Scholarship Awarded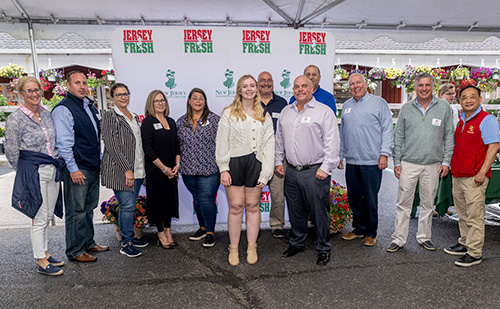 The New Jersey Department of Agriculture hosted the Eastern Produce Council's Annual BBQ at Demarest Farm in Hillsdale, NJ, on Tuesday, May 24th.
New Jersey Secretary of Agriculture, Douglas Fisher, moderated the presentation which included comments from John Banscher of the NJ Vegetable Growers Assn., Bonnie Lundblad who represented the NJ Blueberry and Peach Councils, and Joe Atchison, Assistant Secretary and Director of Marketing, NJ Dept. of Agriculture.
Following the Crop updates, EPC President. Marianne Santo, on behalf of the Nolan Family Foundation and Theresa Nolan who could not be in attendance, announced the winner of this year's $5,000 Annual EPC/Nolan Family Foundation Scholarship. This year's winner is Molly Bender, daughter of long time EPC member and of Fowler Packing, Derrick Bender. Molly will be attending SCAD (Savanah College of Art & Design) in the fall.
This marks the 8th year the EPC offered the scholarship together with Theresa and her Family Foundation and what makes this scholarship unique is that it is based solely on the essay that applicants write about an ethical situation they were faced with and how they responded. All essays are reviewed by the Nolan Family Foundation, not the Eastern Produce Council.
The EPC will host its 47th Annual Golf Outing on Tuesday, June 14th at Fox Hollow Golf Club in Branchburg, NJ. For more information, visit their website, easternproducecouncil.com.
South Carolina Department of Agriculture and EPC celebrate
50th Anniversary
Pictured above celebrating their 50th Anniversary together are members of the EPC Board, the South Carolina Department of Agriculture, and SC Specialty Crop Growers.
Click here to read the complete article.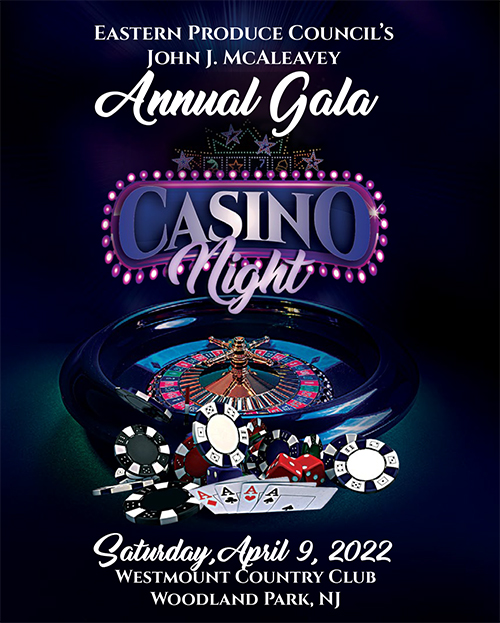 Thank you to all those who attended Casino Night and/or supported our Ad Journal this year.

It was great to be back at The Westmount after three long years, and we apperciate your support!
2022 EPC Leadership Class Tours Philly Port and Wholesale Market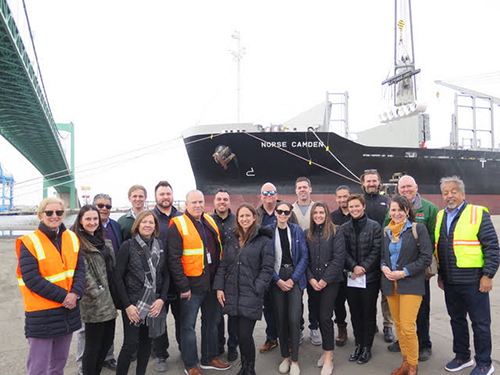 The fourth Eastern Produce Council (EPC) Leadership Class saw first-hand the increasing complexity of the produce logistics and distribution system with a tour of the Philadelphia Wholesale Produce Market (PWPM) and Holt Logistics on March 22, 2022. The tour is the kick-off event of the EPC's leadership program and provides crucial insight into these parts of the supply chain. The group began its program at PWPM with a presentation on the market's function and benefits from Mark Smith, PWPM general manager, and walked the concourse to meet with various market merchants. The next stop on the tour was Holt Logistics Corp at the Gloucester Marine Terminal in Gloucester City, NJ, where Sander Daniel, Marketing at Holt, explained the various facilities and the value added services encompassing the Philadelphia port and its role and importance in the import supply chain. Daniel escorted the participants on a visit to some areas of the Gloucester City port including a tour of the DelMonte facility given by John McCann, Vice President Northeast Region for Del Monte Fresh Produce and EPC member. McCann explained the company's system of receiving, processing and shipping imported product and treated the class to delicious samples of ripe DelMonte pineapple and cantaloupe.
Click here to read the complete article.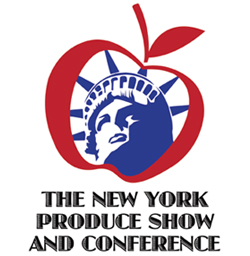 2021 New York
Produce Show & Conference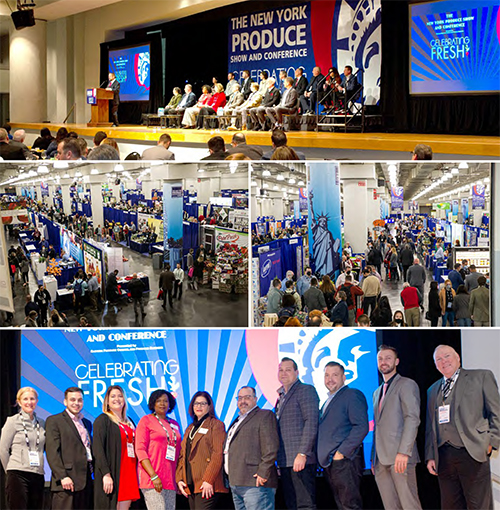 Thank You!
Thank you for supporting this year's New York Produce Show and Conference! After missing last year, this year's Show and events around it surpassed our expectations. It could not have succeeded without your support!
Hionis Proves Vibrant Spot for
EPC Leadership Class Tour and Seminar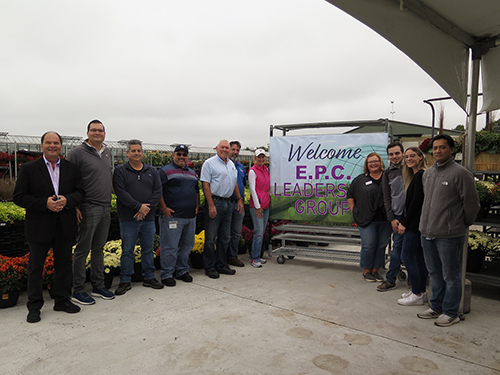 Hionis Greenhouses in Whitehouse Station, NJ, provided another learning experience for the third Eastern Produce Council (EPC) Leadership Class. The group toured the operation's greenhouse facilities on October 5th and benefited from another seminar on leadership by John Eric Jacobsen, a trainer with the Rutgers Office of Continuing Professional Education.
Tim Hionis, co-owner of Hionis, summarized the operation's three-decade history, started by Hionis' father and mother (Spiro and Angie) and now run by him and his three brothers (Pete, Spiro and Gerry). "My parents started with a one-acre greenhouse in 1985", he said. "We have now grown to two locations with a total of 15 acres under cover, producing a wide variety of products year round."
Click here to read the complete article.
7th Annual Joe DeLorenzo Family Apple Picking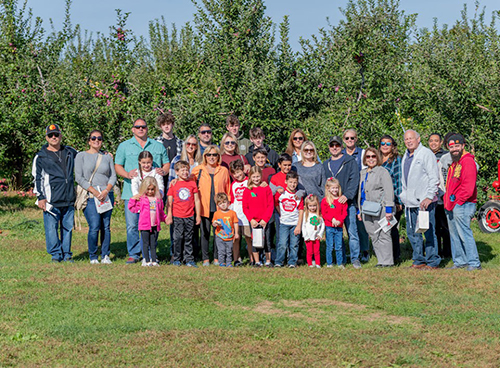 On Saturday, October 2nd, over 100 people (including EPC members, their families, and the family of Joe DeLorenzo) enjoyed a beautiful morning at Melick Farm in Oldwick, NJ, for the 7th Annual Joe DeLorenzo Family Event. Cider and doughnuts kicked off the morning and were followed by tractor rides that took families up to the orchard to pick apples. After returning from the orchard, everyone enjoyed fresh grilled corn on the cob, hotdogs, and popcorn.
The event was named in honor of long-time board member and two-time president of the council, Joe DeLorenzo, who died in November 2014. "Joe was all about family, and this event is an opportunity for EPC families to remember Joe and spend time together out on a farm", said Susan McAleavey Sarlund, executive director of the EPC.
EPC's Annual Tailgate back at MetLife Stadium!
Sponsored by the Idaho Potato Commission and Litehouse, Inc., the Eastern Produce Council was thrilled to be back at MetLife Stadium to host its Annual Tailgate Event on Tuesday, September 21st in East Rutherford, NJ.
Those arriving early, enjoyed a tour of the stadium that included the Press Box and Museum, the Commissioner's Lounge, and the field. Following a Cocktail Hour featuring Idaho Potato and Litehouse fare, EPC Vice President, Kelly Davis, introduced the evening's sponsors, Camille Balfanz, Director, Brand Management for Litehouse, Inc. and Ross Johnson, Director Category Management of the Idaho Potato Commission. Both introduced their staff in attendance, remarked on the importance of the Metro NY marketplace to their businesses, and handed over the night to guest speaker, Harry Carson.
Harry is a former American football inside linebacker who played his entire professional career for the New York Giants and was inducted into the College Football Hall of Fame in 2002 and the Pro Football Hall of Fame in 2006.
Harry had a different approach to his presentation. He said that since he had the opportunity to talk to many of the EPC members during the Cocktail Hour, he was going to treat his time with the group like a Phil Donahue Talk Show and walk throughout the group answering their questions, football related or not.
Following Harry's engaging time with the audience, the sponsors raffled off footballs signed by Harry, as well as, Idaho Potato Trucks and Spudy Buddies, and Litehouse Gift Bowls.
The crowd of loyal EPC members, happy to be gathered again at MetLife Stadium, thoroughly enjoyed the night.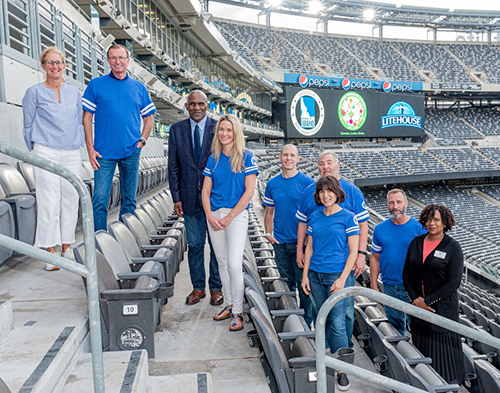 Pictured from left to right are: Susan McAleavey Sarlund of EPC, Mike Krage of Idaho Potato Commission, Harry Carson, Maren Szollar of Litehouse, Ross Johnson and Seth Pemsler of Idaho Potato Commission, Camille Balfanz and Ed Klein of Litehouse and Kelly Davis of Allegiance Retail Services and EPC Vice President.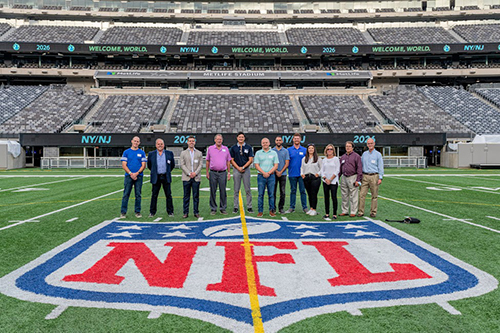 EPC Members who joined the tour prior to the Cocktail Hour saw many exciting areas around MetLife, including a visit to the field.
EPC Leadership Class Tours
Rutgers Snyder Research Farm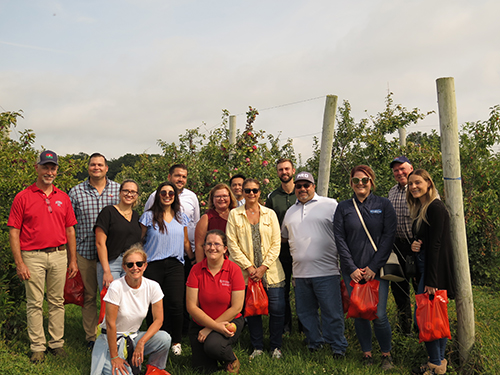 The third Eastern Produce Council (EPC) Leadership Class toured the Clifford E. and Melda C. Snyder Research and Extension Farm at Rutgers University located near Pittstown, NJ, on September 15, 2021. The group began the day touring the 400-acre farm. "The farm provides a variety of valuable research on soil, climate conditions, pest control and crop variety," explained Peter Nitzsche, County Extension Department Head. "We have a mixture of projects underway including research on organic practices and weed control in sustainable organic plots to disease resistance in basil through breeding, to looking at new crop alternatives for our growers." Participants had the opportunity to get their hands dirty by picking apples and tomatoes from the farm. "The dual-medium learning environment of our program is crucial to our goal of developing leaders," said Susan McAleavey Sarlund, EPC Executive Director. "It is invaluable for them to gain first-hand experience and knowledge from the field as well as the classroom. The Rutgers farm provided an opportune educational venue." In the afternoon, the class participated in an interactive seminar on Strategies for Coaching and Team Building given by John Eric Jacobsen, a trainer with the Rutgers Office of Continuing Professional Education. Jacobsen pointed out that the single largest factor in an organization's long-term success is the leaders. The class discussed team nourishing and strengthening strategies as well as morale killers.