Casino Night 2020
May 2nd
7th Annual James and Theresa Nolan Family Foundation & EPC Scholarship

Deadline to Apply:
April 17, 2020

Winner to be Announced:
May 19, 2020

To learn more about this scholarship and how to apply, click the button below
10th Annual New York Produce Show & Conference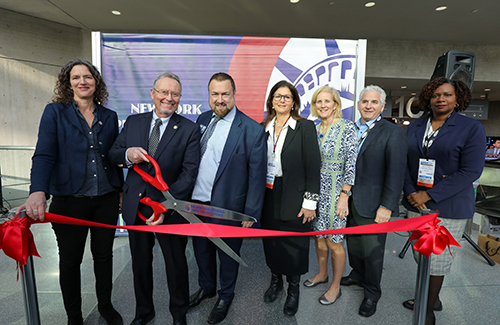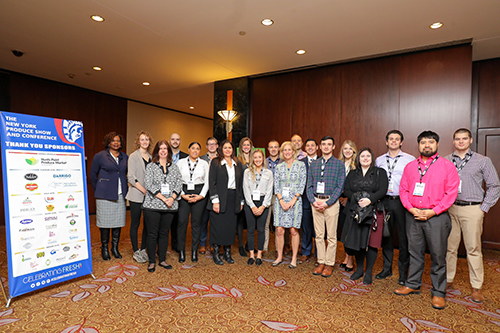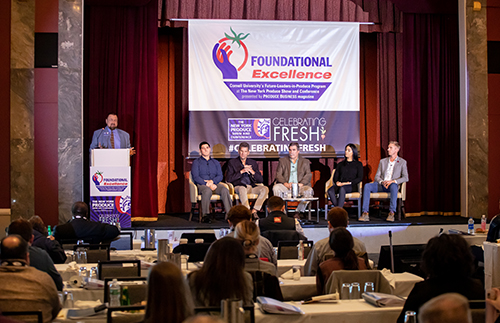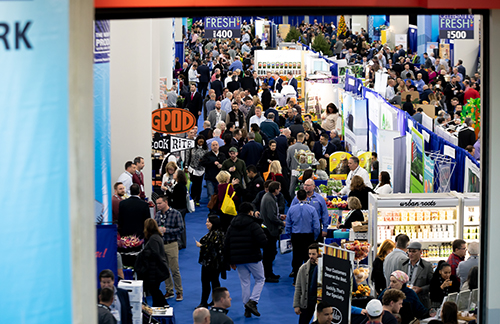 Thank you for your support of the 10th Annual New York Produce Show and Conference. It could not succeed without your support!
EPC's Third Annual Tailgate at MetLife Stadium a Big Hit
Sponsored by the Idaho Potato Commission and Litehouse, Inc., The Eastern Produce Council hosted its Third Annual Tailgate Event in the Toyota Club at MetLife Stadium on Wednesday, October 2nd in East Rutherford, NJ.
Those arriving early enjoyed a tour of the stadium that included the Press Box and Museum, the Commissioner's Lounge, and the field. Following a Cocktail Hour featuring Idaho Potato and Litehouse fare, EPC President, Marianne Santo, introduced the evening's sponsors, Stacey Miller, Director of Marketing for Litehouse, Inc. and Seth Pemsler, Retail Vice President of the Idaho Potato Commission. Both introduced their staff in attendance, remarked on the importance of the Metro NY marketplace to their businesses, and handed over the night to guest speaker, Vince Papale.
Vince shared his unique story with the audience through his humor and enthusiasm. He is a former professional football player who played three seasons for his beloved, hometown NFL team, the Philadelphia Eagles. He was a 30-year old NFL rookie who never played college ball at his Alma Mater, St. Joseph's College, which he attended on a full Track scholarship. Vince's story was brought to light in the stirring football drama, "Invincible", starring Mark Wahlberg, about an ordinary guy who, against all odds, takes his shot at every fan's fantasy of going from the grandstands to the gridiron in an open tryout. It has been described that Papale's odds of achieving his wildest lifelong dream of playing for the Eagles was "one in a gazillion!" He connected his story to the business world, the importance of dreams and teamwork.
Following Vince's engaging remarks, the sponsors raffled off footballs and a book, signed by Vince, as well as, Idaho Potato Trucks and the always popular, Spudy Buddies. Between the unique setting, the food, and Papale's dynamic presentation, the crowd of loyal EPC members thoroughly enjoyed the night.
5th Annual Joe DeLorenzo Family Apple Picking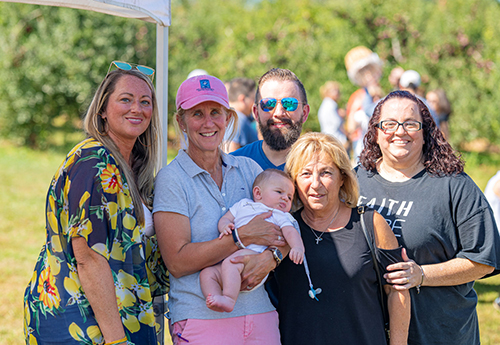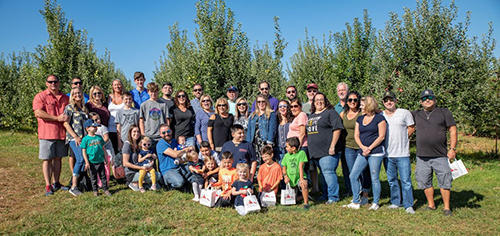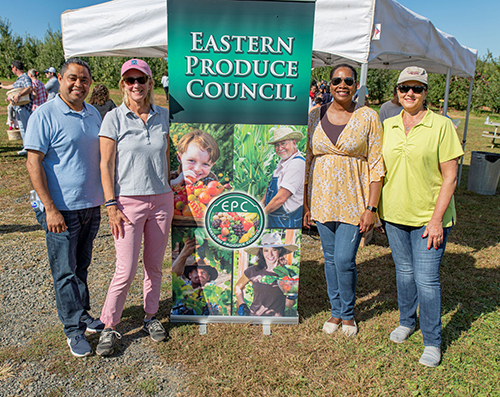 On Saturday, September 21st, over 100 people (including EPC members, their families, and the family of Joe DeLorenzo) enjoyed a summer-like morning at Melick Farm in Oldwick, NJ, for the 5th Annual Joe DeLorenzo Family Event. Cider and doughnuts kicked off the morning and were followed by tractor rides that took families up to the orchard to pick apples. After returning from the orchard, everyone enjoyed fresh grilled corn on the cob, hotdogs, and popcorn.
This year's gathering was extra special with special guest, 3-month old, Joseph Michael DeLorenzo, son of Joe's son Anthony, and named in honor of his deceased grandfather.
The event was named in honor of long-time board member and two-time president of the council, Joe DeLorenzo, who died on November 2014. "Joe was all about family, and this event is an opportunity for EPC families to remember Joe and spend time together out on a farm in primetime apple season", said Susan McAleavey Sarlund, executive director of the EPC.
Joe's love of family was evident by more than 35 members of the DeLorenzo family on hand for the event. All are New Jersey residents, except for one of his daughters and her family who came up from Florida.
44th Annual Golf Event
Thank you to all those who participated in or supported our 44th annual golf event!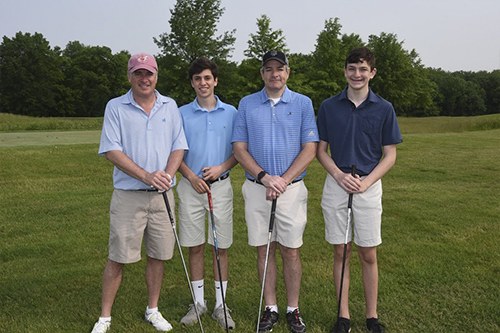 Eastern Produce Council Leadership Program Tours Rutgers Snyder Research Farm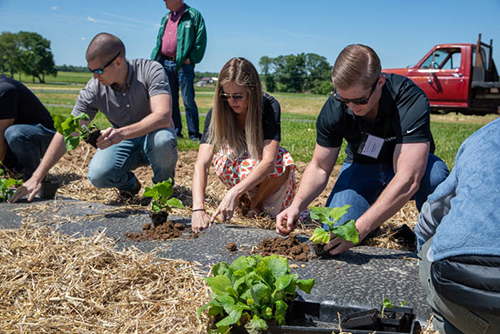 The Eastern Produce Council's Leadership Program 2019 group received a warm welcome from Peter Nitzsche, County Agent I & Professor for the Rutgers Department of Agriculture and Natural Resources at the Snyder Research & Extension Farm on Tuesday, June 4th in Pittstown, NJ. The group spent the day touring the farm, learning about the Rutgers Research and Extension program, and honing their leadership and communication skills in an afternoon classroom session.
Mr. Nitzsche provided an overview of the farm stating, "We're happy to welcome you to the Rutgers Center for Sustainable Agriculture: The Clifford E. and Melda C. Snyder Research and Extension Farm. Clifford and Melda Snyder were farmers and very active in the agricultural community and when they passed on decided to bequeath the 390-acre farm to Rutgers for use as a research facility. This farm is utilized by Rutgers to conduct research on sustainable agriculture and to address problems faced by farmers in northern NJ."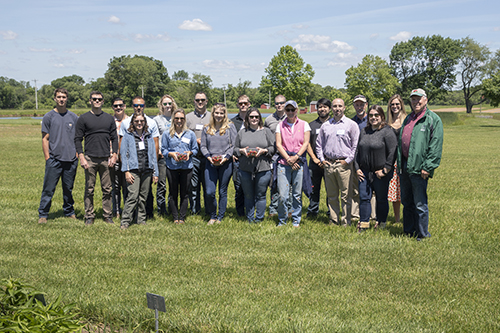 EPC Executive Director, Susan McAleavey Sarlund led the Leadership students during their tour and commented the goal behind the group was simple. "We wanted to give the group a chance to get real-life, hands-on experience as part of this exceptional program and touring Snyder Farm was the perfect choice for the third component of the program". The group had previously toured Gloucester Port and Terminal in Gloucester City, NJ and Greenyard Logistics in Swedesboro, NJ and attended a FSMA seminar at the end of April.
The tour of the farm began with a wagon ride to the strawberry patch where the students learned about the various forms of trials and testing that occur at the farm. Nitzche allowed the EPC Leadership team to pick some strawberries to bring home, explaining that the majority of New Jersey strawberry farmers do so for the agri-tourism segment, i.e. "pick-your-own" as they are very labor intensive to pick. They continued along the wagon ride where they learned that while the farm is primarily for research, they do sell some of the surplus crop to the Rutgers University dining services when appropriate and they have also donated over $1.7 million of fresh produce to local food banks to help combat food scarcity in the area.
The "students" in the Leadership Program were able to get their hands dirty too. A few of them helped to plant new Yacon plants that the university is testing for potential fall options for local farmers to expand their crop offering.
Following a nice lunch provided by the team at the Farm, the EPC group participated in an afternoon session in a classroom environment. Stan Elson, Adjunct Professor for Rutgers University, conducted the afternoon educational session with a focus on communication and leadership skills. McAleavey Sarlund remarked, "It was great to see the group engage in the exercises Stan put together about personality traits and how to effectively interact with colleagues who may be quite different in an effort to meet common goals!"
The Leadership Group will meet again in September to tour Wightman Farms in Morristown, NJ and conclude their yearlong program at the New York Produce Show and Conference in December.
NJDA Hosts 10th Annual BBQ at Demarest Farm EPC/Nolan Family Foundation Scholarships Awarded
For the 32nd consecutive year, the New Jersey Department of Agriculture hosted the EPC's May meeting with a Barbeque at Demarest Farm in Hillsdale, NJ.
Doug Fisher, New Jersey's Secretary of Agriculture, was the moderator for the state's presentation which included comments by Tom Beaver, NJDA's Director of Marketing, and representatives of the NJ Blueberry Council, Peach Council and Vegetable Growers Association.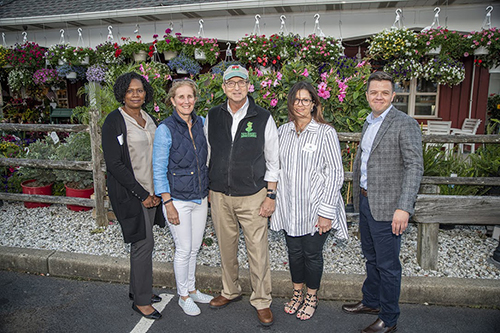 Pictured from left to right are: Kelly Davis, EPC Vice President and Director of Produce and Floral at Allegiance Retail Services, Susan McAleavey Sarlund, EPC Executive Director, Doug Fisher, Marianne Santo, EPC President and Senior Category Manager Produce and Floral at Wakefern Food Corp., and Tom Beaver.
Theresa Nolan was also in attendance to present this year's $5,000 Annual Nolan Family Foundation Scholarships to Andrew Antoch, (son of Mark Antoch of FreshPro Food Dist.) and Jillian Young, (daughter of Jeff Young of A&J Produce). In the past Theresa's Foundation has awarded one scholarship. This year, the Nolan Foundation and the Eastern Produce Council combined efforts to award a second $5,000 Scholarship.
What makes this scholarship unique is that it is based solely on a 500-word essay on ethics. In particular, applicants need to site an example of how they faced an ethical challenge in their life and dealt with it. Anonymous essays are judged by representatives of the Nolan Foundation, not the Eastern Produce Council. Congratulations Andrew and Jillian!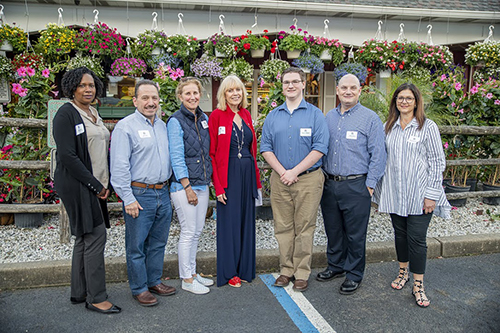 Pictured L to R are: Kelly Davis, Jeff Young of A&J Produce, (father of Scholarship recipient, Jillian Young), Susan McAleavey Sarlund, Theresa Nolan, Scholarship Recipient Andrew Antoch, Mark Antoch, and Marianne Santo.
South Carolina Department of Agriculture Hosts April Meeting
On Tuesday, April 23rd, the South Carolina Department of Agriculture hosted the EPC's dinner meeting at Il Villaggio in Carlstadt, NJ for the 48th consecutive year.
Katie Pfeiffer, the state's director of merchandising, was the moderator for the state's presentation which included comments by Jimmy Plunket of Seedway, LLC and President of SC Watermelon Association, Matt Forest, Owner/Operator Dixie Belle Peaches and President of SC Peach Council, and Weatherly Thomas, President SC Specialty Crop Growers Association.
As is tradition at this April meeting, Pfeiffer introduced the EPC's new directors and slate of officers for the coming year.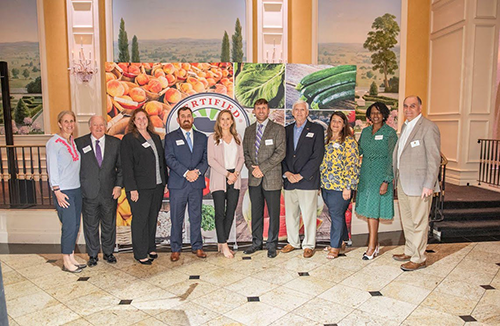 Pictured above are representative of the SCDA and Board Members of the EPC.
The 2019 EPC Leadership Class
The Eastern Produce Council is proud to announce this year's Leadership Class.
The Leadership Program is a professional development experience for Produce Professionals who have less than 10 years of experience in the industry. The goal is to provide the group with an opportunity to gain valuable knowledge from both classroom and field experiences throughout the coming year.
Schedule of Events
April 9th - Visit to Holt Cargo Systems, Inc. at the Port of Gloucester City and Greenyard Logisitics USA.
April 23rd - Food Safety Modernization Act Seminar.
June 4th - Classroom / Field Experience at Rutgers University's Snyder Farm.
September 10th - Classroom / Field Experience at Rutgers University's Wightman's Farm.
Mid December - Attend New York Produce Show Seminar & Keynote Breakfast where certificates will be presented for the completion of the Program.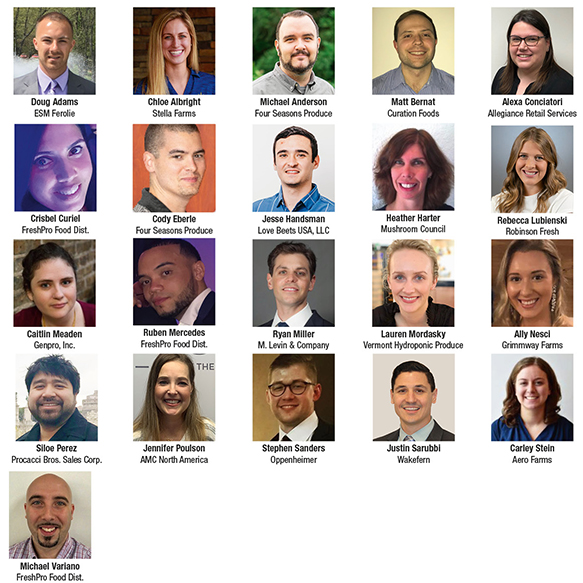 Thank you to all who attended or supported
The John J. McAleavey Annual Gala (Casino Night)